Nautički magazin (Nautical magazine / NM) has been distributed in Serbia and Montenegro since 2004.
NM is yachting and motor boats lifestyle magazine with the longest tradition on those markets. [ PORTFOLIO ]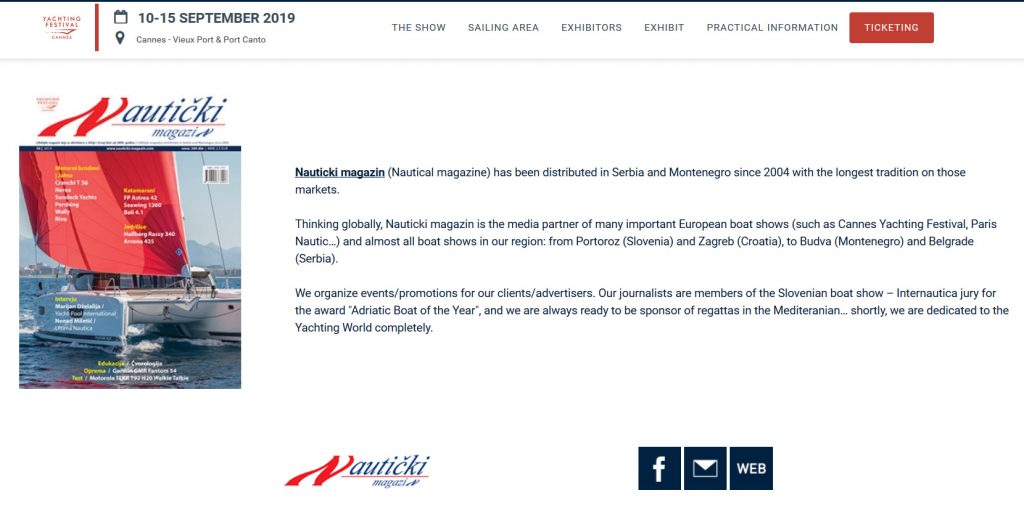 MEDIA KIT | 2021
Spring #60 … 15. March| Summer #61 … 1. June| Autumn #62 … 1. September | Winter #63 … 1. December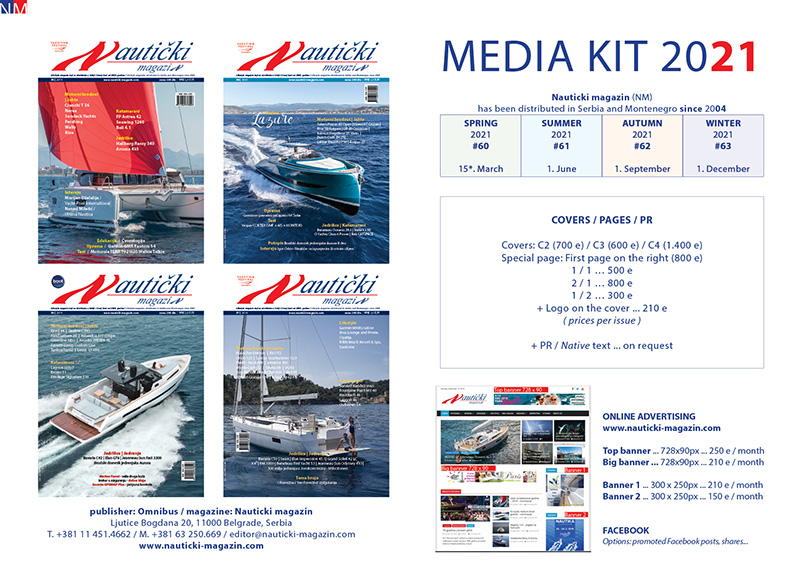 MEDIA PARTNERSHIPS | INTERNATIONAL ACTIVITIES
NM has developed international recognition in previous 17 years, and so for it is media partner to many important European boat shows, such as: Yachting festival in Cannes (since 2009), Salon Nautique de Paris (since 2009), seatec in Carrara (2011/16), London-on-water (2016) … and CNR Avrasya/Istanbul (from 2019). We have strong media partnership with all boat shows in Adriatic region as well: Slovenia, Croatia, Montenegro and Serbia.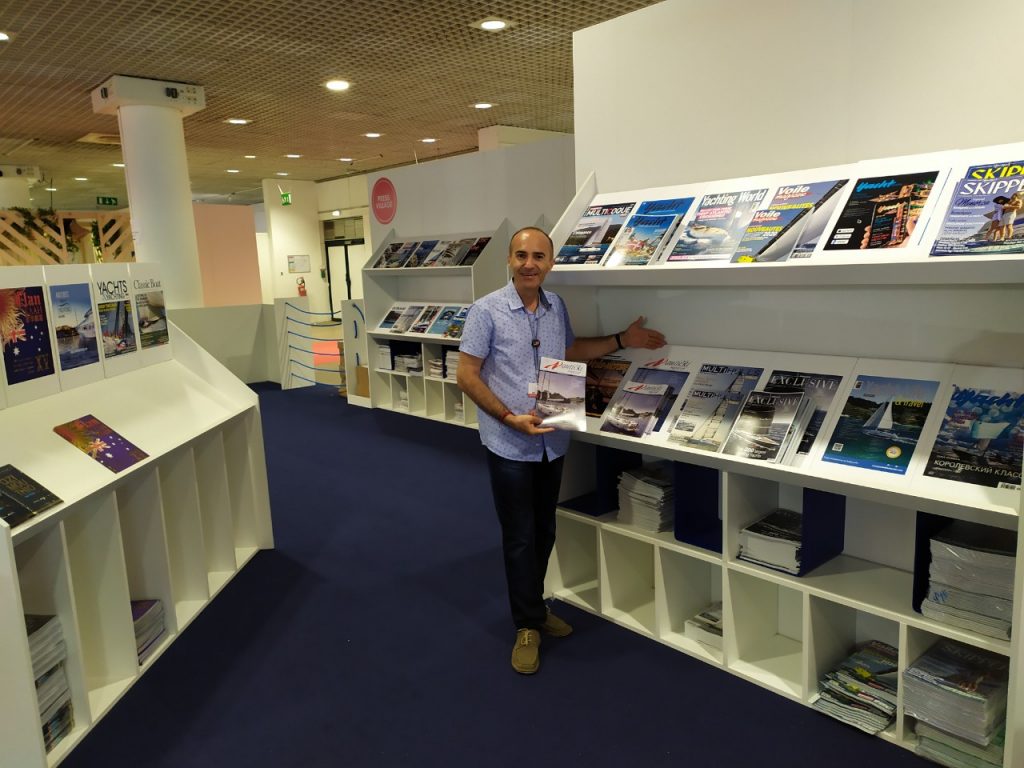 MEDIA SPONSORSHIPS | REGATTAS, BOOKS…
NM has been media sponsor for regattas (Seascape Cup,  Fasinada) and to sailing achivements (first Serbian crew boat on ARC regatta). We have published sailing books – about sailing around the world ("Isti jarboli…") and how to build your own boat ("Kako se kalio Tiki").
AWARDS | MEMBER OF JURY
NM has established Beauty of the Show Award – for Boat Show in Porto Montenegro and Best Boat Interior Award with international jury.
NM editors are members of the Slovenian boat show – Internautica jury for the award Adriatic Boat of the Year.
ORGANIZING EVENTS | REGION AND EUROPE
NM has organized events for its clients, such as: Montenegro promotion (Porto Montenegro +  Plantaze Wines + Catovica mlini restaurant) in Cannes – known as High-noon party (2010), and Hallberg Rassy Event and Linssen Day in Belgrade (2011 and 2012).
Boat Show adverts in NM magazine:
Dusseldorf / Germany
Zagreb / Croatia
Belgrade / Serbia
Carrara / Italy
Split / Croatia
Budva / Montenegro
Portoroz / Slovenia
London / UK
Cannes / France
Paris / France
Friedrichshafen/ Germany
Istanbul / Turkey
Contact
Nauticki magazin
Publisher: Omnibus
Ljutice Bogdana 20
11000 Belgrade
Serbia
T. +381 11 451 4662
M. +381 63 250 669
E. editor@nauticki-magazin.com